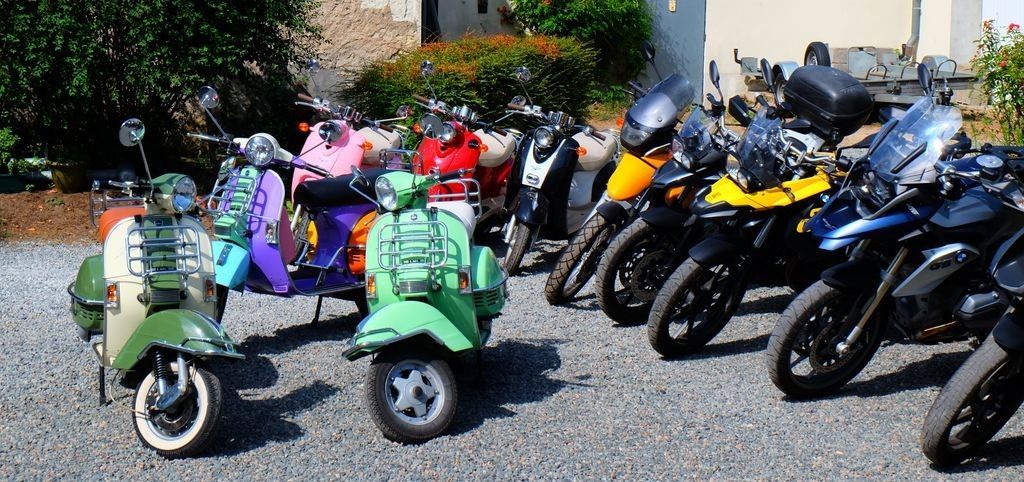 All travelers intending a long term motorcycle trip in Europe have several options from renting, shipping or buying a bike. All those solutions have advantages and disadvantages that need to be analyzed according to the kind of motorcycle trip planned.
Renting a motorcycle
For most motorcycle trip in Europe renting is the most cost effective option. Rental companies are numerous in Europe and can provide almost all types of bike from custom to dual sport/adventure bikes or even sport bike. Once you have chosen the country you will rent from and selected the rental company make sure to compare the rates as they can be very different from one to another. For example some includes unlimited mileage others are charging for extra miles. But we will come back later in the blog with more information on how to rent a motorcycle.
Shipping your bike
Depending on how much time you plan to ride in Europe but shipping is an interesting option but not the easiest and certainly not the cheapest. Prices range from 1 to 3 between shippers and destination. Keep in mind that it usually takes time to organize and a lot of hassle on paperwork. There is also a risk, especially with sea freight, of delays. Once your bike is arrived at destination it also takes some time with customs and shippers to get it.
Then when you think it's done and can start you ride you must get an insurance which is another story especially as a non-resident. Shipping is worth if you plan to spend at least 6 to 9 months or more.
Buying a motorcycle and sell it back
At least but not last you can try to buy a motorcycle and sell it back when you have completed your trip. It must be stated that in order to be cost effective the duration of trip must be at least 3 months. Below this period renting can still be interesting.
Compare to renting and shipping, buying is not the easiest to find as very few business offers this service. Sometimes motorcycle dealers will be ok to do it but it will cost a lot.
The principle is very simple. You buy a bike, do your trip, come back and sell it.
The main advantage of this system is that you don't have to go through the administrative hassle (registration and insurance). As an example, in most European countries you can only get insurance (or even sometimes title) if you can prove you are a resident. In most case there are ways to go around it but it's always playing on the razor's edge and it's time consuming and stressful.
Some company only charge a fee on each transaction but you only get your money back when the bike is sold (can take a few months) some charge a percentage of the value of the bike which is what Ride in Tours offers.
As an example Ride in Tours use a chart in accordance with the mileage done and duration to get the percentage of refund on the bike (from 40 to 60 %).
How does it work in details when dealing with Ride in Tours.
You ask for the type of bike you want and the budget your have (full price of the motorbike), we search for it with our partnership of dealers or even in classified and we submit some bike to your approval. When looking for a motorcycle we always promote bikes coming from dealer as they are automatically guaranteed (from 2 to 6 months) by law.
It's unlikely that the bike will not come with the level of equipment required but we can quote and get anything mounted before your arrival (luggage racks, top case box, gps holder, etc)
Then in order to buy the bike for you we ask a 40% deposit. The balance is paid generally on bike delivery. So when you arrive to pick up your bike everything is ready. Then motorcycle in insured and titled and equipped if necessary.
What are the recommended bike in Europe for a long trip ? :
well hard to say.. Unless you don't have a specific idea before searching on the web, we suggest that dual purpose bike are a good choice : of course BMW GS's are a must but not always affordable. Kawasaki Versys, Honda 700 NCX, Suzuki Vstrom, Yamaha FJR are good compromise also. All those models are easy to find at a reasonable price, and offers a wide range of equipment and are perfect for long trip. Of course if you are looking for THE specific bike like a 1996's blue Yamaha 900 Diversion with less than 30000 km it could be harder to find…
In France the biggest classified website for motorcycle is Le Bon Coin :
https://www.leboncoin.fr/

The motorcycle can also come from our fleet. When bike have done their time in rental we usually keep it available for the sell and buyback program. In this case you save the cost of title (around 130 €).
Returning the bike
When you have complete your tour of Europe you bring the bike back to our office and we give you back your deposit (from 60 to 40%) depending on the mileage done and time you had the bike.
To get the deposit back according to the contract it's important that you maintain the bike according to the manufacturer recommendation service manual while on the road. This mean service, tyres, oil changes, etc.
Of course any damage or a bike brought dirty and scratched will generate some extras fees and lower the refund amount.
Insurance :
When we buy the bike for you can also choose the type of contract you want. Of course this has to be in accordance with bike cost and age. Keep in mind that even with a 3rd liability, an insurance contract will cover you as a person and the passengers as well even in the unfortunate case of responsible damage.
As an example of rate here is the price of contracts (2016) for a BMW F 800 R (6000 € value) Insurance : comprehensive : 747 € or liability : 406 €
Therefore it's always cautious to subscribe a travel insurance in your home country that will take you back home in case of serious health problem.
Driving license
It is vital that you have a valid driving license for Europe since at least 2 years (for insurance purpose) and should not be expired otherwise you may not be covered. We always strongly recommend that you get an international license from your country. If your national license has a restriction of cc and power this one also applies in Europe.
Motorcycle storage
Most company that do sell and buy back also offers a storage service. Some charge for it some don't. usually it's around 30 € a month. They will also supply assistance like transfer from train or airport or finding accommodation.
Whatever options you choose buying is very often cheaper than shipping or renting.
Feel free to contact us for inquiries or for a quote of your project. As active member of the horizon Unlimited community we are always happy to assist any motorcycle traveler.