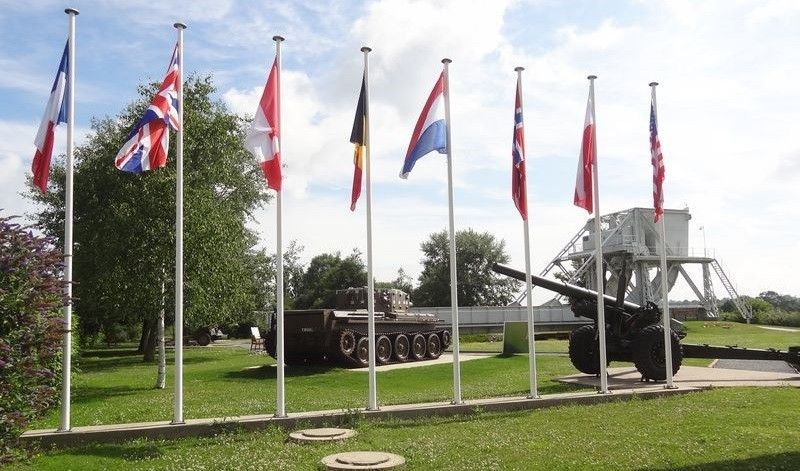 To reach Normandy from the Loire valley on a motorcycle, I would have thought a Harley would have been more logical. Not Necessarily the U.S. Army old model , the WL750 called "Liberator" is a bit too rustic, but bike like the Fat Boy would have been ok for me. I even thought for a second to take my Harley 1200 XL Forty Eight. Never mind, I'll rather go with my old faithful BMW R 1200 GS, the bike I know best although it's a german bike...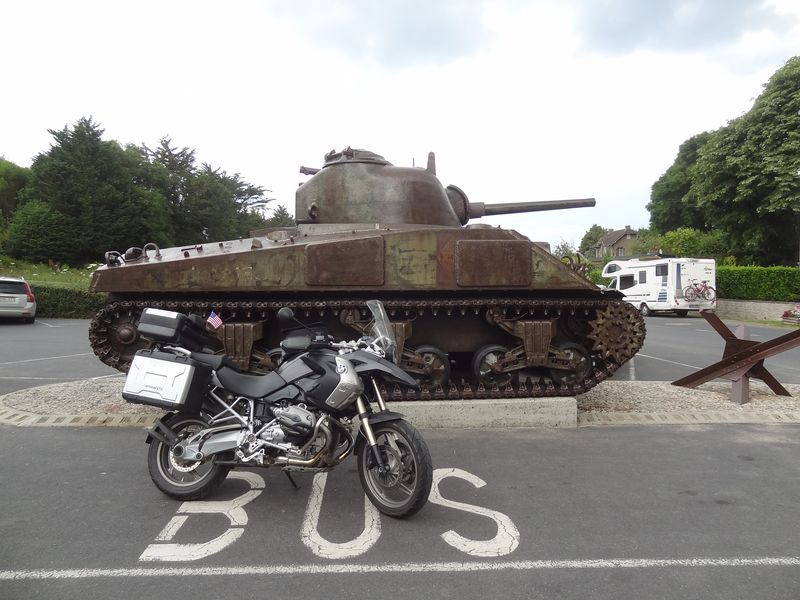 Everything is alright and to reach the coast by Le Mans and Lisieux is a formality. Everything is good, right, except this fall's sky in which are jostling very threatening clouds. They are coming closer to me, not at the rhythm of the drum, but at the one of a thunder. And the usual scenario is repeating endlessly : one drop, then one second and before I have the chance to count the third one , it's a real flooding that drops on me. Should I recognize a symbol of the landing ?. In my opinion, I am luckiest than those soldiers, who came here to be killed. As a replacement of heavy artillery, I will only get water on me. Fortunately, this rain will be as short as suddenly. But that was enough to wet me to the bones. Nevertheless in a tenth of a second, I measure all the happiness of being able to go to this green Normandy's landscape on autumn 2018, but not on June 1944.
After several coffee breaks, and nearly 300 km telling myself how much I love this old motorcycle despite the fact that I have all the new models of BMW in my garage. I finally arrived at St Laurent sur Mer, where the Landing took place.
Here is finally the famous Omaha Beach. The beach is empty and is so long, so impressive, and so calm. It's hard to imagine that 75 years ago, one of the most deadliest episodes of the Battle of Normandy took place here. It is not possible not to think about the movie scenes of the "Longest Day" or "Saving Private Ryan". We suddenly realize even through those movies, the hell lived by those young soldiers. The night is falling on the english Channel, and we're about to reach our hotel, time to go back to the bike... Now, I can say that I am one of those who've seen Americans people on Omaha Beach.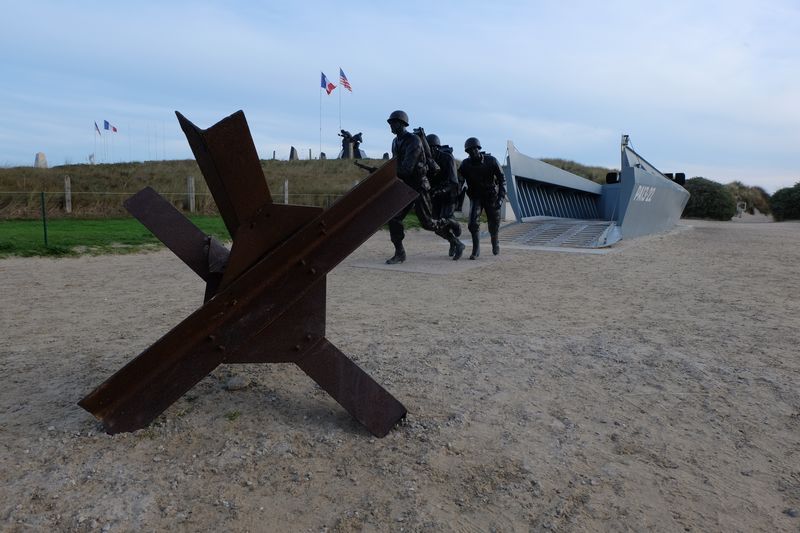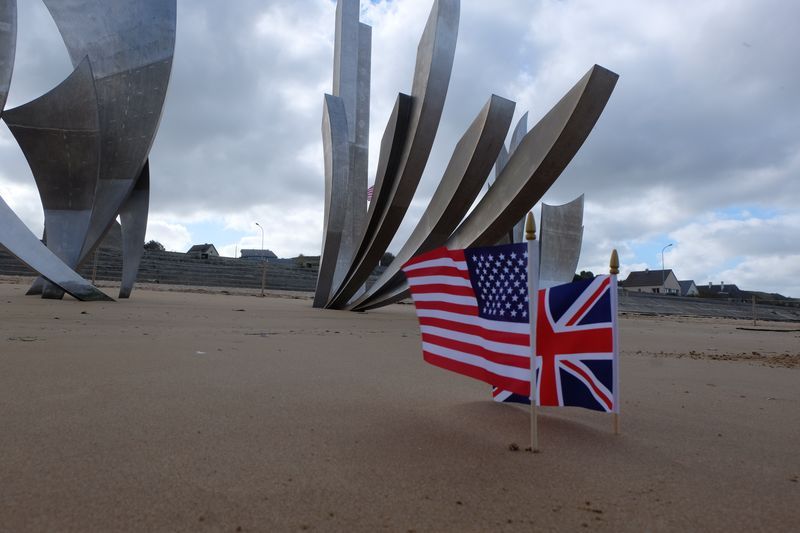 Before drops of the storm come to cool us down, we go to our hotel next to Omaha Beach. Time to settle down and I find my riding buddies in the dining room of the restaurant. And we are waiting for Tom, the photographer of the team who is late. So we order beers, then a second round . The need for a third one is about to be mentioned, when finally arrives our latecomer. Him, who always blame me for the ugliness of my technical clothes, appears in a magnificent red combination of fisherman over which he did not hesitate to wear his black leather jacket. "Tom, you are splendid!" I know that jokes about me will definitely quit. After a good session of beers, back to serious time. It's about ordering for dinner. Without hesitation, we have to order cream and mussels. And this is where we touch heaven. For this kind of gastronomy, I would ride naked on my bike in the middle of winter, for sure! The evening will continue in a good mood and the relief of knowing that for tomorrow, weather forecasts agree to predict great weather.
Indeed, at sunrise , sky did not keep any trace of the disturbances of the day before. But the cool temperatures remind us that fall is here . I leave St Laurent to meet my riding partners in the small harbor town of Port en Bessin, only 10 km away. Taking inland road, the brightness of the coast is replaced by the mists that cover the meadows of the hedgerows. Guys are here, but not the coffee that we have planned for our meeting. Yes, season's over and the country has found back its peacefulness . Never mind, we'll take the morning shots in Arromanches. We go back in the saddle and rush forward behind the guys. The small roads gently twirl around the Normand landscapes and the bikes seems to enjoy it as much as we do. There is not a kilometer without a memorial plaque, an exploded armored vehicle or a museum tribute to the D-Day.
Difficult here to escape to the duty of remembrance. While crossing the small resort of Longues sur Mer we takes on the left towards the coast. After only one kilometer on the D 104, we arrive at one of many German batteries that spread along the Atlantic Wall. On these limestone cliffs, looking at the sea, suddenly appear bunkers casemates and their post of command. If those bunker are similar to all others, they distinguished by its pieces of artillery left in place. Obviously, we are not the only one to be interested by the place. A van of a tour operator, who has made his business on D-Day has dropped off his passengers who listen with a distracted ear, the information of the guide. We linger for a while just for a few pictures and we notice on a memorial sign that the place was taken on June 7, 1944 by the Devonshire Regiment. Of course, the landing is not just about US. It is also the story of English, Canadians but also French people. Now I really need this coffee, so I hurry the convoy to reach Arromanches.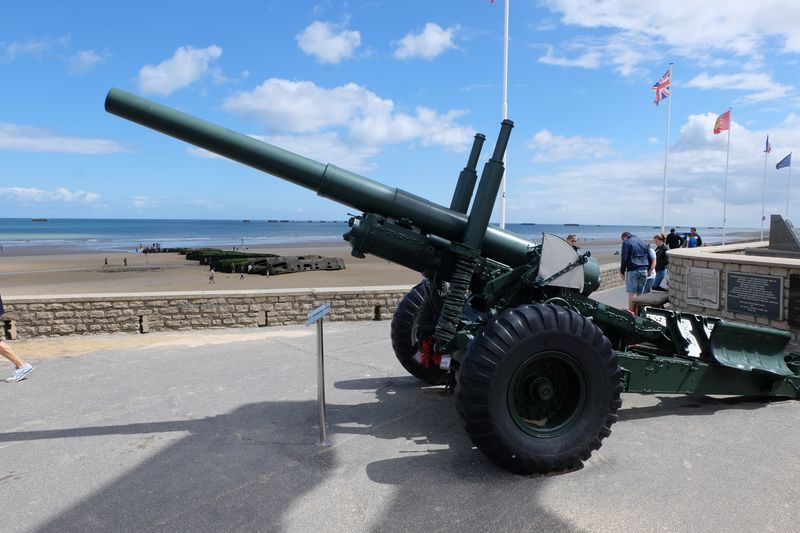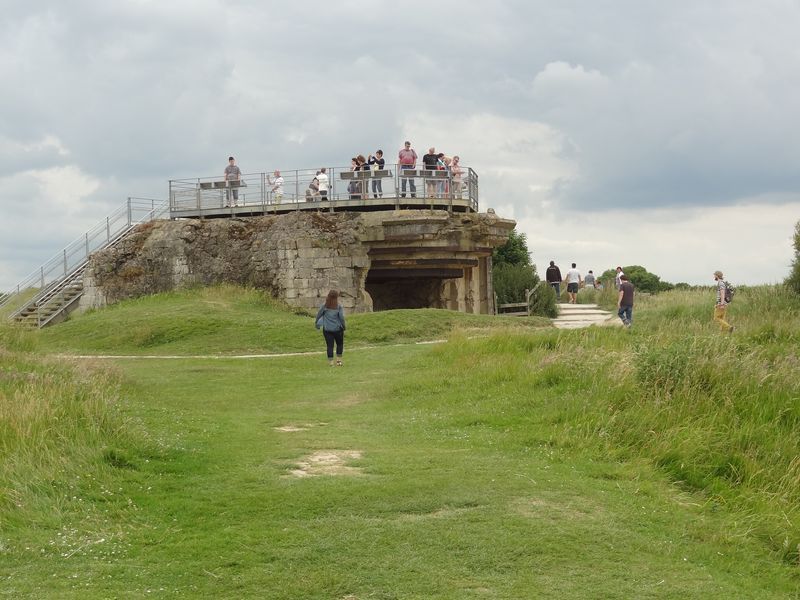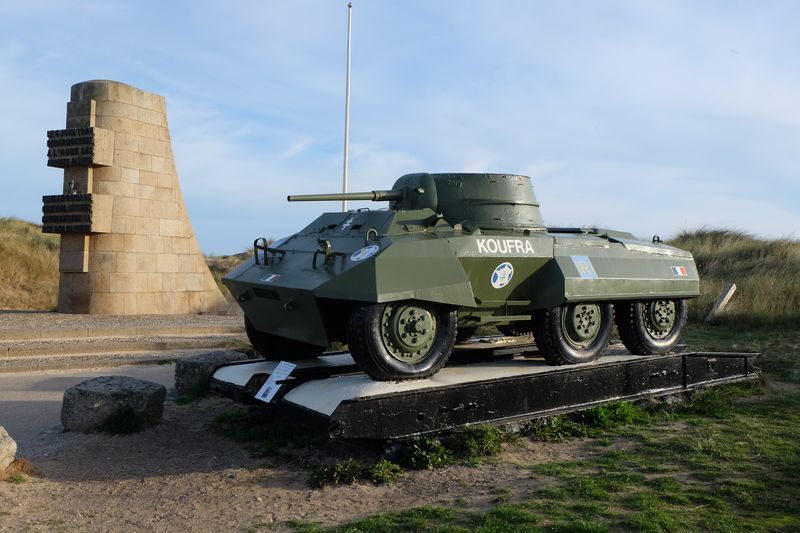 We leave without wasting time. The roads we follow are very narrow. A sign catches my eyes, it mention a speed limit at 70 km/h. This is not surprising, except that this regulation applies only from July to September. This is indeed the reproduction period for RV's and we must make sure not to disturb them. But today, we will see only one or two of those huge species. However, it should be noticed that in France, there is a custom that our farmer friends respect with care which is the one that consists in covering the road with mud of their tractor when going out of fields. So it's a little muddy covered that we arrive in Arromanches where stands the artificial harbor. Off the beach are still some impressive concrete barges used to install these artificial barges after the D-Day. We will learn more about it in the museum located along the main square. After the long-awaited coffee, it is now time for little riding as we have made little progress since our departure. We follow the coast line to Courseulles sur Mer and stops at the small fish market who attracts crowd especially at fishing return.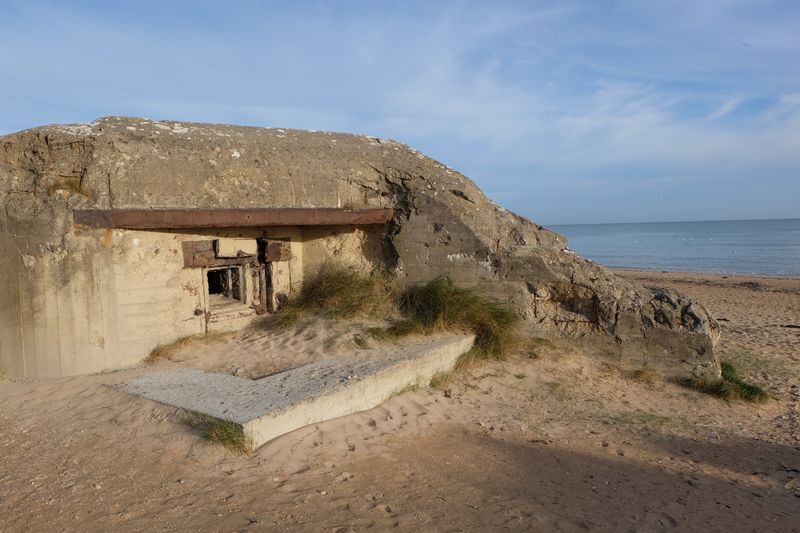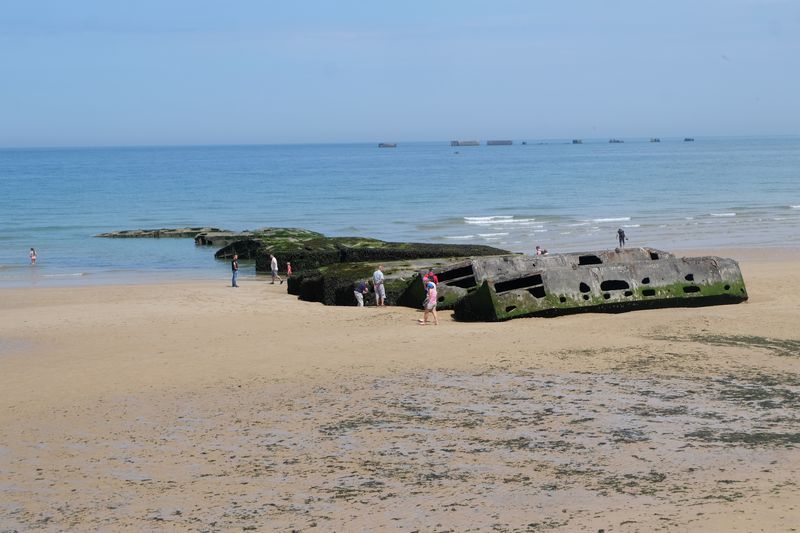 We reach Caen, a city whose recent architecture reflects the importance of the damage caused by Allied bombings. In fact, like Le Havre, the city was completely destroyed. Even its church Saint Jean with its leaning bell-tower, seems to testify the pain during this troubled period. Not enough to cut off appetite. We'll go for a nice steakhouse restaurant that I know. And when it comes to rib or steak I only imagine Argentinians to be better than Americans, everybody follow me without a doubt. Well done, the food was delicious. Although my wisdom is long time gone, I'll gave up on dessert, I leave the restaurant with desire of a nap. Fortunately, the fresh air quickly wake me up. I can't see myself going into an overheated office. What a lucky job I've got !. For now, here I am, refreshed and strongly grabbed the handlebars of my BMW 1200 GS. The effect of the meat has a stimulating effect on my American friends who want to show me that his bike is running well too. That's right, his motorcycle accelerates strongly. By good luck, we arrived safely, and still under the sun in Bénouville to admire the famous Pegasus Bridge and the Café Gondrée, the first liberated café in France. We meet the owner of the place, Arlette Gondrée, she was a child during the D-Day, and gave us a comment as accurate as intense.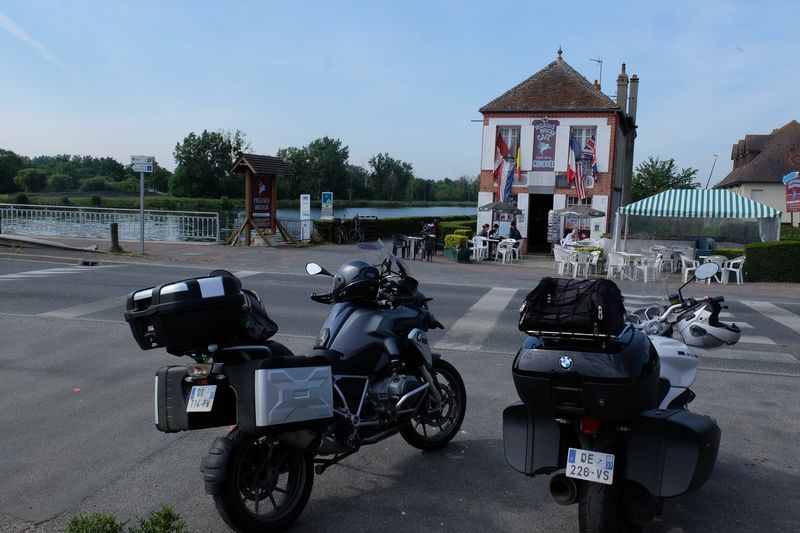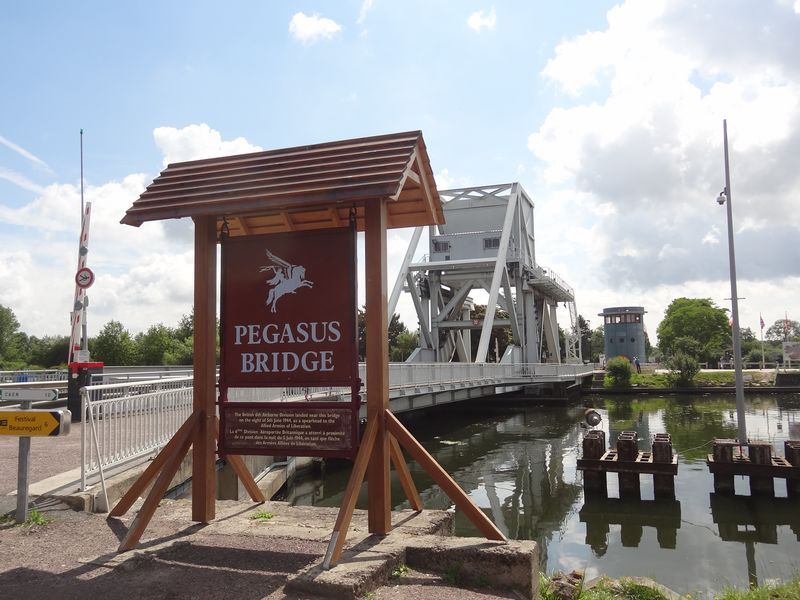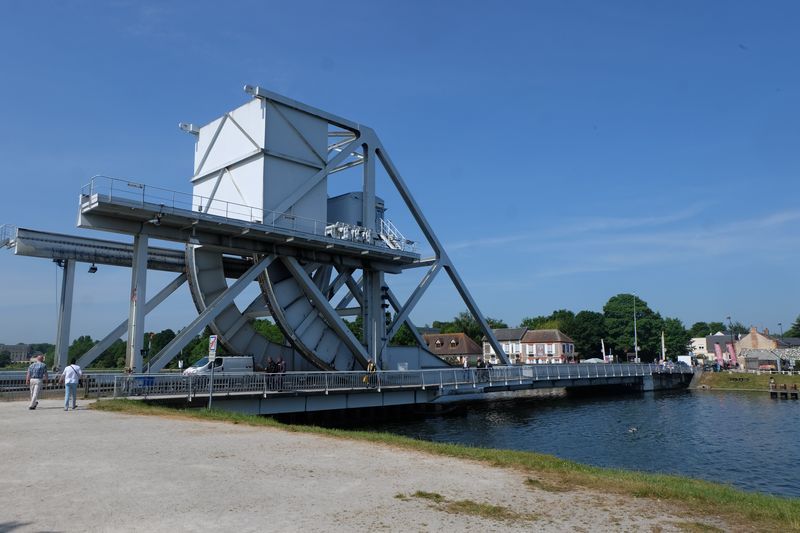 After a stop at the American military cemetery in Colleville, we wander the cemetery, facing Omaha Beach, where over 9,300 American graves lies of those men died during the Battle of Normandy. We gather on the graves of these young soldiers who died for our freedom and take the road again with a tight throat ...Enough for today.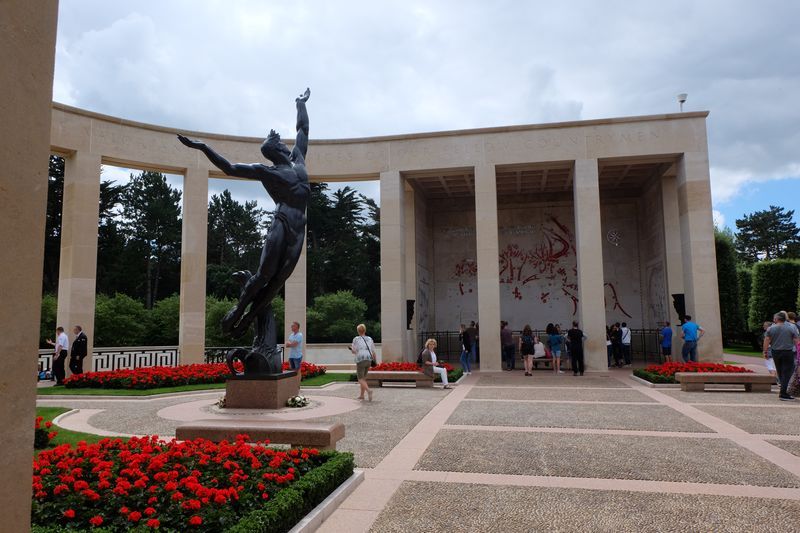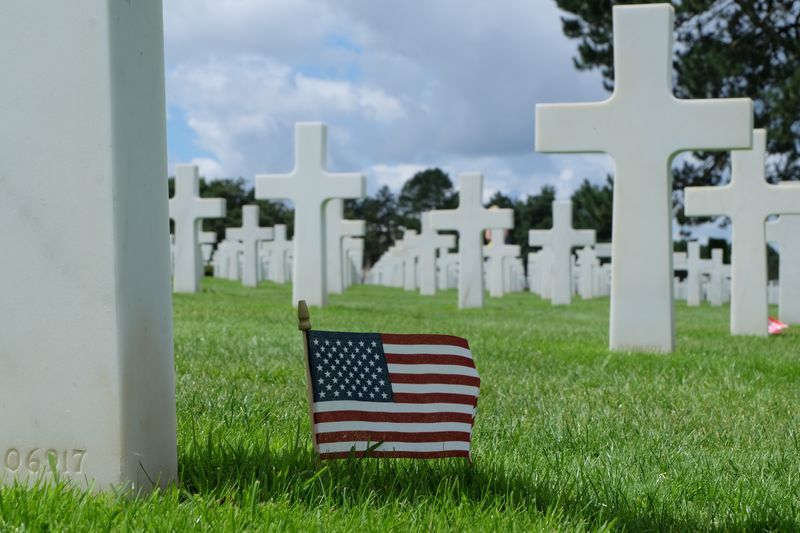 At sunrise, darkness is here and mist rain too. Time for more pictures on Omaha Beach and we're on our way Ste Mère Eglise and its church. The lack of visibility encourages us to leave small roads for main highway. Once at destination, we stop at the church to check if the unfortunate American paratrooper John Steele is still hanging on the bell-tower. To honor his memory, a model has been hanged up and represents a target of choice, not for the German soldiers this time, but for the cameras of tourists. To learn more about the event, you can extend the visit of Ste Mère Eglise with the Airborne Museum next to the church.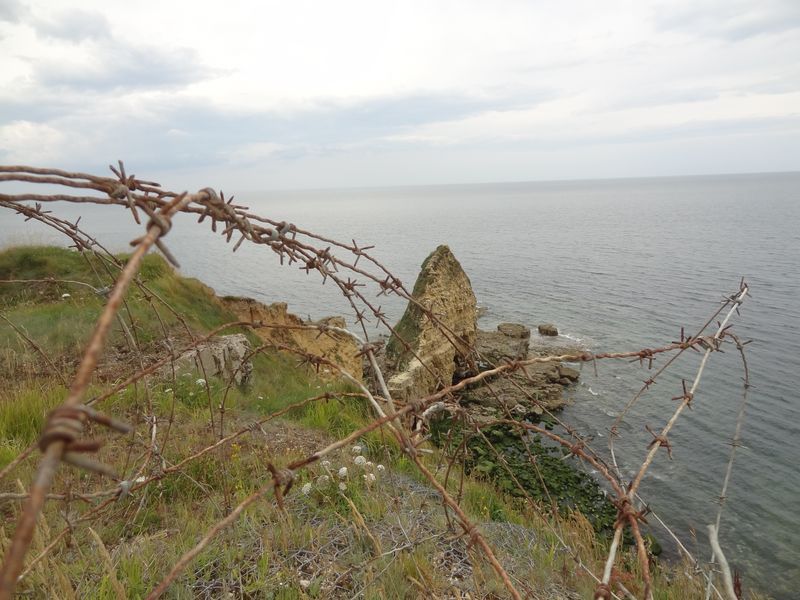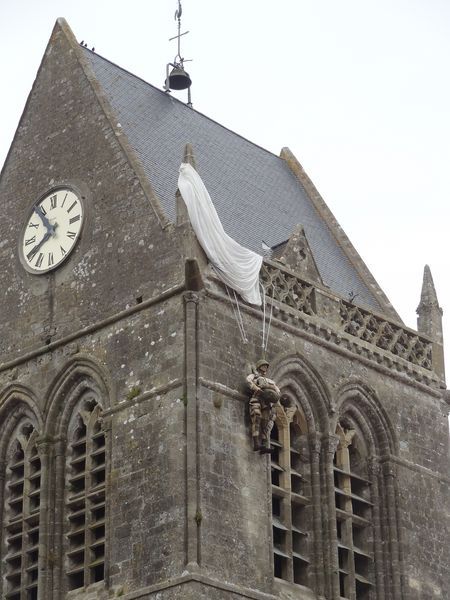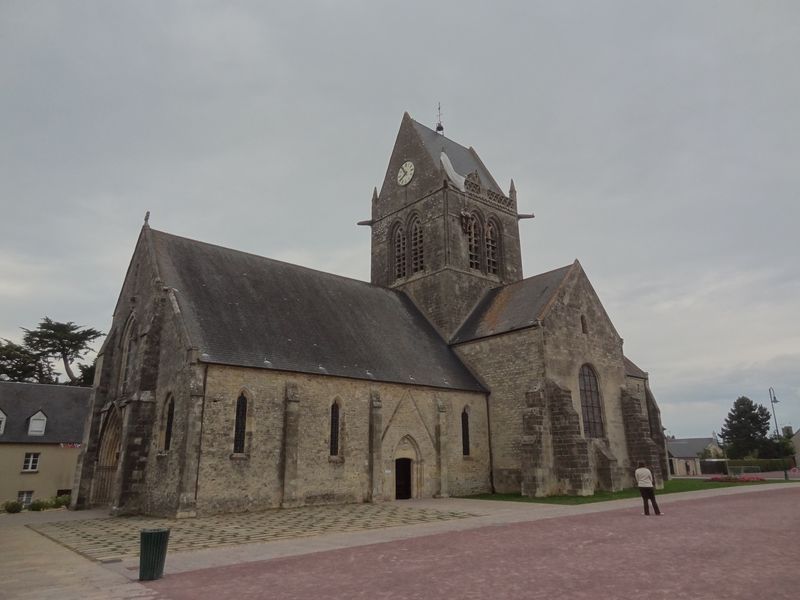 For us, its time to leave camp to head up for Saint Vaast la Hougue . The cloud ceiling is still very low and the drizzle has turned into rain. Moral runs low so does the bikes speed. Fortunately, a nice surprise is waiting for us there at the Gosselin House, an incredible grocery store opened in 1889. At lunchtime, my partners decide to order some oysters, it is supposed to be some of the best ones in the world. For me, a sea bream will make me happy. On our way back, a small detour around Morsalines on the edge of the D14. Here, we can enjoy a nice view on the coast, bordered with many old mansions. To finish this journey, we will go by Ecauseville where you can see a strange and imposing airship shed from 1919. Before the night falls, we head up to Criqueville en Bessin, more precisely to Pointe du Hoc, on the cliffs where many American rangers soldiers felt under enemy's fire. After a loop of almost 200 km, our visit of the Normandy D-Day ends where it started on Omaha Beach. But this time, no more clouds on the horizon.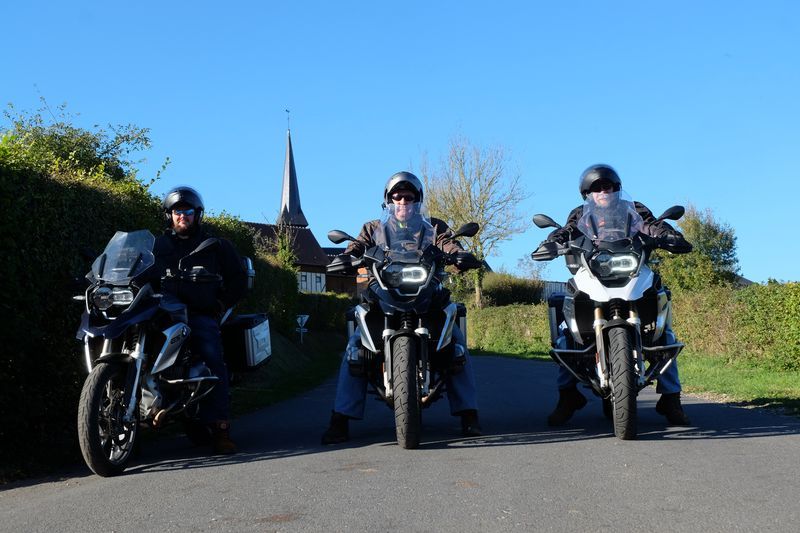 If you want to experience a ride on the D-Day Normandy area and all the sightseeings this lovely region has to offer join our Normandy tour.